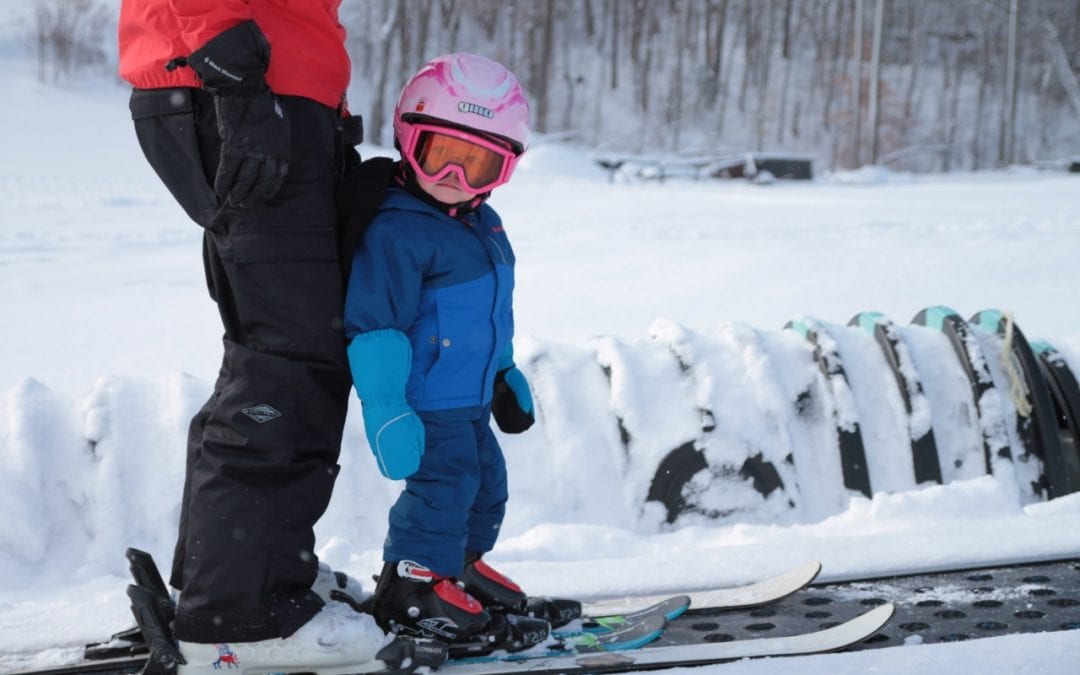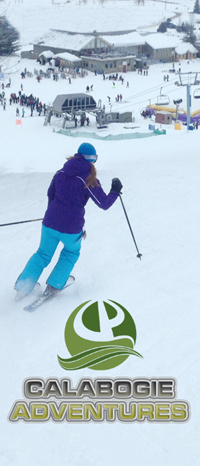 Our little one is 21 months old and we recently took her skiing for the first time. My husband and I both started skiing at a young age so naturally we wanted her to start as soon as possible. We miss skiing and I know we can ski without our daughter, but we like spending time as a family so we figured if she seemed interested enough in it we would start skiing with her this winter.
By no means are we experts at skiing and we haven't been skiing with a toddler long enough to dish out advice but I'm still going to tell you about our experience because you may find some of it helpful.
We started off by showing her magazines of people skiing and snowboarding. We read books that had skiing in it and if we allowed screen time at this age we would have showed her videos.
Next, we took her to the "ski swap" with us where we purchased her skis and boots. She got to try them on and watch other little ones do the same. On the drive home she insisted in holding onto her "boots" that she got at the "swap" (we heard these words the WHOLE way home, repeated OVER and OVER – it was cute).
We left her ski boots in the living room where she could use them if she pleased. She put them on quite often and enjoyed walking around the house in them. Once we got the bindings put on her skis we would do the same (on carpet). She seemed to be pretty excited about skiing so we felt better about taking her knowing that she would most likely enjoy it.
We are fortunate to live close enough to Calabogie Peaks that we set off thinking we would only do one run, and if that was it, then that was fine with us. When our daughter finished her first run, we asked her if she wanted to go again and she signed "more".  My husband ended up doing 4 runs with her before WE had to decide it was time to be finished even though she requested to go up "one more time".
We didn't use any ropes or harnesses because of how small she is. We decided for the first few times holding onto her would be best until she becomes a bit more comfortable on her skis. We may not end up using one at all this winter; we are just going to take it slow.
We took her into the chalet for lunch to give her the full ski experience.  There she got to meet other children and watch people skiing through the windows.
When we got home (an hour before her usual nap) she requested to go straight to sleep. It took her seconds to fall asleep and she had a good long nap.
I'd say our first time skiing with a toddler was quite successful. She seemed to really enjoy it even though you can't really tell by the pictures (the noise of the snowmaking machines worried her a little bit). We can't wait to take her out again!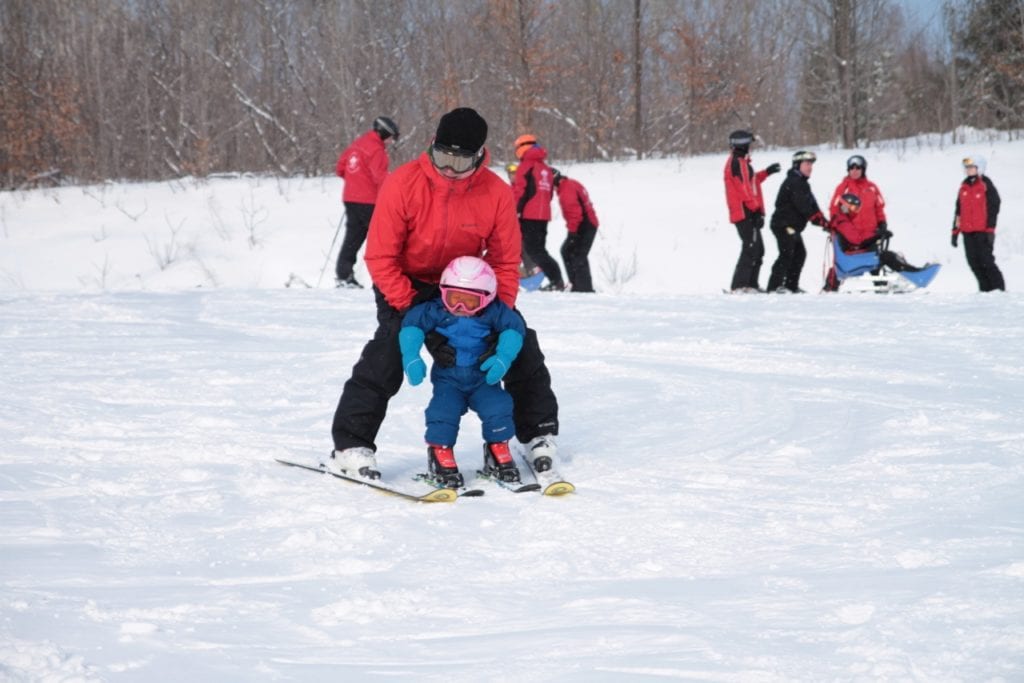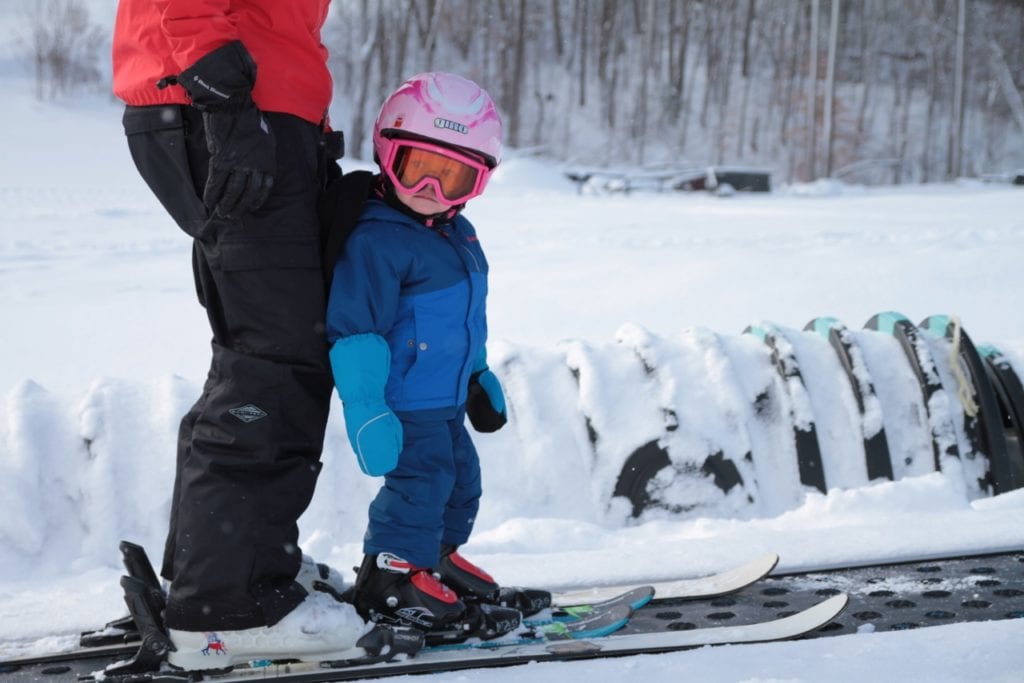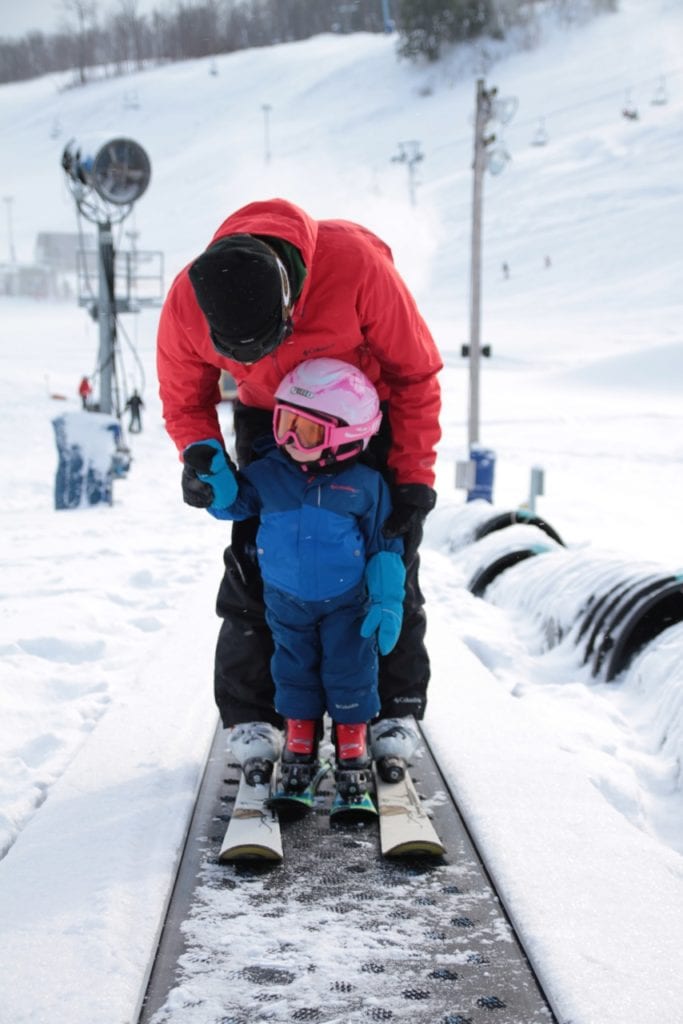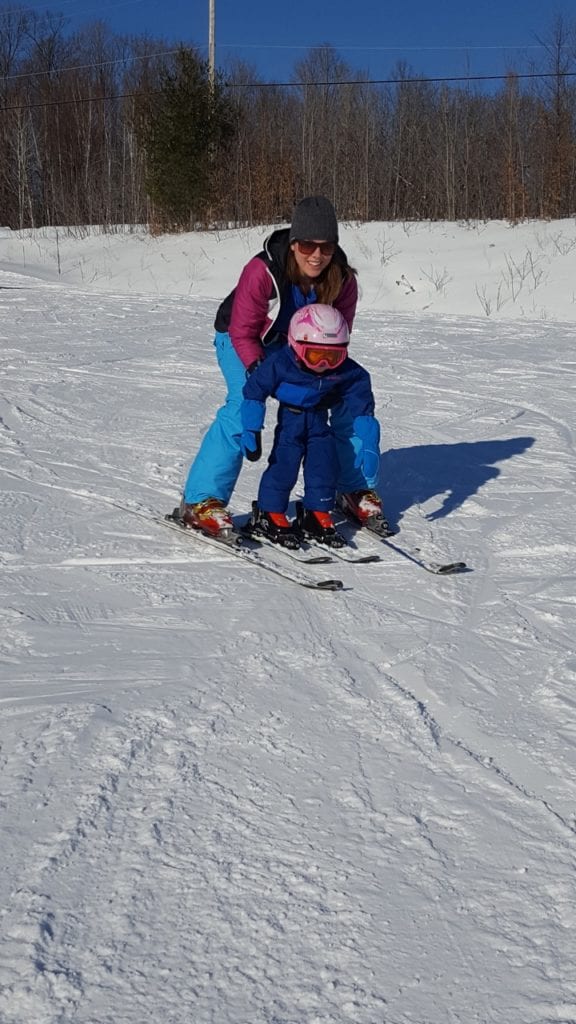 ---
Raised in the Ottawa Valley and a permanent resident of the Calabogie area,  Michelle Kobzik is passionate about the outdoors and the environment. She is an Early Childhood Educator for the Renfrew County Catholic District School Board and just as passionate about her job as she is for the outdoors.  She also enjoys writing and taking pictures so when you combine the two you get her blog: www.mish1100.wordpress.com
Keep imagination alive and play outside!