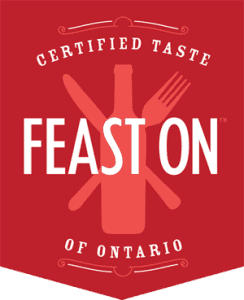 Dining at Calabogie Peaks
True Culinary Adventures in
Ontario's Highlands
Calabogie Peaks Resort is proud to be a Feast On certified business. We are committed to sourcing Ontario growing and made food and drink which in turn supports our local economy and provides the freshest food experience.
Canthooks Restaurant
Located in the Calabogie Peaks Hotel, this Switzerland inspired cuisine is available 3pm-9pm on Tuesday through Sunday. Discover culinary offerings that highlight the unique identity and character of the Ottawa Valley. Open for dinner, Canthooks Restaurant provides casual fine dining experiences in a welcoming and relaxing atmosphere.
Black Donald's Pub
Open during the winter season, Black Donald's Pub boasts stunning views of the mountain through 7 ½ meter floor to ceiling windows. An adjacent patio space moves apres ski outside as the winter days warm. Delicious pub cuisine, local craft beers and spirits makes Black Donald's the go to place for a respite from your mountain adventures.
Mountain Cat Cafe
Open during the winter season, the Mountain Car Café is Calabogie Peaks ski-side eatery. This self- serve cafeteria has everything from breakfast to homemade soup-du-jour, featured main dishes, sandwiches, salads, hot dogs, burgers and lots of snack food. It's a perfect place to meet up between runs on the slopes!
Boathouse Bar and Grill
The Boat House Bar and Grill is open during the summer months and is our anchor location for golf and boat rentals. Pop into the grill for a snack after a round of golf or while you are enjoying the beach.