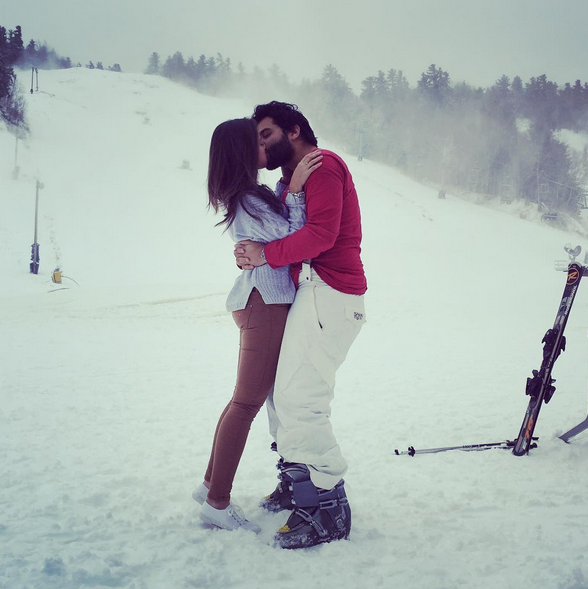 Browsing around on some Google searches, poking around Twitter, and checking out Instagram (#calabogiepeaksresort) is like sitting in an airplane during a long flight. You can't help but hear what people are talking about and when you find out how much they're talking about you and saying only good things, you can't help but feel good about yourself. Because we want you to see how much people are enjoying themselves at The Peaks this winter so you can realize why you could be here too having just as much fun, we're going to share some of those good vibes today.
As the saying goes, a picture is worth a thousands words. If that's true, then Instagram is currently writing a new draft of War & Peace about Calabogie. So many fantastic shots and selfies posted over the last couple weeks made it hard to choose a few to show off… that's why we decided not to choose and simply post the link. There were a couple that peaked (sorry, another pun) our interest with Valentine's Day less than two weeks away just to give you a preview of the goodies to come when you click the link.
Daytripping to Eagle's Nest
The Ottawa Citizen's Peter Johansen posted a new article in their print and online editions about a snowshoeing trek to the magnificent Eagle's Nest lookout. Snowshoeing's popularity is on the rise lately as people are looking for a more leisurely activity accessible to the whole family or for active couples looking for some quiet time in the back country. Plus it's a bit of a step back to Canadian traditions. Peter's attention to the Native Anishinabe sacred beliefs and the origins of this gorgeous location make the trip more than just a walk in the snow to a big cliff; the word "tradition" truly applies. If you've never had the chance to make the journey, read Peter's take and see if Eagle's Nest will be next on your #WinterWander list.
It's not all fun and games for everyone at The Peaks; some come here to get down to business. We're host to numerous conferences, corporate retreats, and networking seminars from businesses and organizations across the Ottawa Valley, which is why it was really nice to see how much the attendees of last Fall's ROAR (Rural Ontario Active Recreation) Conference appreciated their time connecting at Calabogie. Combined with weddings, reunions, and special events, we host hundreds of functions a year in all four seasons. Getting out of your typical office/boardroom environment can be just the thing your team needs to remain focused while still getting that kick of fresh air (literally and figuratively) to break out of the box and process new ideas. You can read about it in the Ottawa Business Journal's latest online issue here.