Mountain Safety Guidelines
Calabogie Peaks is committed to mountain safety by promoting skier and rider mountain regulations and rules to ensure the best possible guest experience. We follow industry standard safety guidelines provided by the Ontario Snow Resorts Association www.skiontario.ca and National Ski Areas Association www.nssa.org that are geared towards all alpine activities allowed on our trails including alpine skiing, snowboarding, telemark skiing, and adaptive skiing.  Mountain safety is important for everyone and we recommend staying on terrain that is within your ability level and following the Alpine Responsibility Code.
THESE CONDITIONS WILL AFFECT YOUR LEGAL RIGHTS
PLEASE READ CAREFULLY!
As a condition of the use of the ski area and other facilities, you assume all risk of personal injury, death or property loss resulting from any cause whatsoever including but not limited to: the risks, dangers and hazards of skiing, snowboarding, tubing, tobogganing, luging, snowshoeing, skating, cycling, mountain biking, snowbiking, hiking and other recreational activities; the use of ski lifts, carpet lifts, tube tows, ski runs, trails, tube parks, terrain parks, bike parks, paths, walkways, ice rinks, parking lots and other facilities; collision or impact with natural or man-made objects or with other persons; slips, trips and falls; accidents during snow school lessons; travel within or beyond the area boundaries; or negligence, breach of contract, or breach of statutory duty of care on the part of Calabogie Peaks ULC doing business as Calabogie Peaks Resort and its associated companies and subsidiaries, and their respective directors, officers, employees, instructors, guides, agents, independent contractors, subcontractors, representatives, volunteers, sponsors, successors and assigns (hereinafter collectively referred to as the "Ski Area Operator"). You agree that the Ski Area Operator shall not be liable for any such personal injury, death or property loss and release the Ski Area Operator and waive all claims with respect thereto. Any litigation involving the Ski Area Operator shall be brought solely within Courts of Ontario and shall be within the exclusive jurisdiction of the Courts of Ontario. These conditions and any rights, duties and obligations involving the Ski Area Operator shall be governed by and interpreted solely in accordance with the laws of Ontario and no other jurisdiction.
THE RESORT OPERATOR'S LIABILITY IS EXCLUDED BY THESE CONDITIONS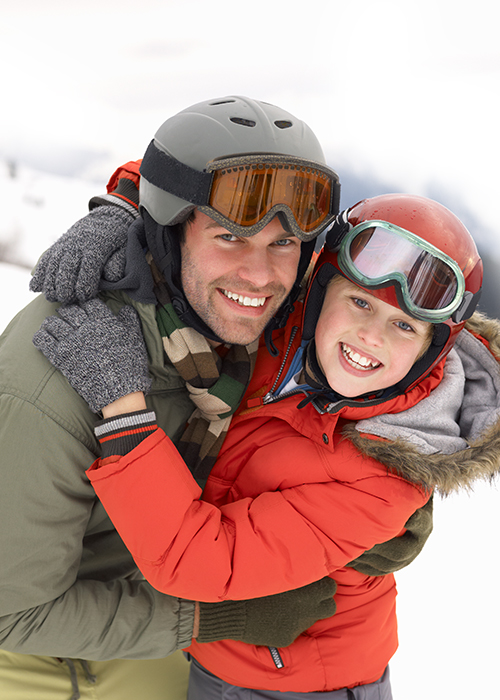 Uphill Travel
During the winter operating season, skiers wishing to ski up are required to visit the Adventure Centre to sign a waiver; snowshoers are allowed to access the trail head off the bottom of K&P only or a snowshoe lift ticket may be purchased to walk down the hill. This policy protects all guests, skiers and riders. The Resort offers numerous hiking trails that are suitable for both winter and green season use.
Helmets
We recommend the use of helmets on the slopes. Keep in mind that your behavior has as much or more to do with the safety of the sport than any piece of equipment. The Ontario Snow Resorts Association offers additional resources for consumers to learn about helmets.
Lift Safety
Calabogie Peaks has 2 chairlifts and a carpet lift. Every skier and boarder must load, ride, and unload responsibly. For information on lift safety, check out KidsOnLifts.org for tips, advice, and FAQs. "No Horsing Around" is a motto we hope to ingrain in every skier and boarder.
Additional Precautions
The trails and terrain parks are designed for use by skiers and riders only and any form of downhill descent other than by skis or snowboard is prohibited.
All skis and snowboards should be equipped with a device to prevent runaway equipment.
Sledding or sliding in any form is prohibited at the Resort.
Guests accessing the trail system must adhere to the Alpine Responsibility Code.
For the safety of our guests, dogs must be leashed on Resort property and are not permitted in public areas. Click here for our Pet Policy.
Calabogie Peaks also adheres to guidance and signage developed through the
SMART Style Freestyle Safety Program
for our terrain parks The 
National Ski Areas Association
 also provides helpful resources for safety facts and tips.
Trail Signage
The coloured symbols next to the trails are the keys to enjoying your first few days on the slopes. Their shape and colour indicate the difficulty of the trail.

Here's what they mean:
Green Circle: Easy
Blue Square: Moderate
Black Diamond: Difficult
Double-Black Diamond: Most Difficult, use extra caution
Orange Oval: Freestyle Terrain
Want to make a difference?
Join our Ski Patrol family and be a part of something great. Our Patrol team is made up of passionate professionals who help in making every experience at The Peaks and exceptional one.