Carve in Style in Our Terrain Parks
If you are looking for Snow Parks in Ottawa, why not wander down the road to Calabogie Peaks for some variety? Challenge yourself to a few passes in our snow parks and mogul features.  .
Jackladder Rail Park
Our public terrain park has a variety of jumps and features,  is located on intermediate terrain and can be accessed from both the Lakeview and Solar chair lifts.
Progression Park
Beginners and little ones can practice in our mini park located at the Beginner Bowl that can be accessed from our carpet lift. Features include small rails and mini jumps in a valuable learning and progression area!
Mogul Field
Enjoy a challenge in a field of bumps at the bottom of Barrett Chute, where spectators can watch from Black Donald's deck!
Snow Park Safety
Having tons of fun in the terrain parks!
The National Ski Areas Association and Burton Snowboards have developed the Smart Style Freestyle Snow Safety initiative, a cooperative effort to continue the proper use and progression of freestyle terrain at mountain resorts, while also delivering a unified message that is clear, concise, and effective.
Terrain Parks "Smart Style"
Calabogie Peaks adheres to the guidance, logos, and signage developed through the Smart Style Freestyle Safety Program. Our park and safety signage are designated by an orange color.
Almost all the terrain at Calabogie may contain jumps, hits, ramps, banks, fun boxes, jibs, rails, half pipes, quarter pipes, and other constructed or natural terrain features.
Prior to using Freestyle Terrain, you are responsible for familiarizing yourself with Freestyle Terrain and obeying all instructions, warnings and signs. Freestyle skills require maintaining control on the ground, and in the air.
Calabogie Peaks also promotes the National Ski Areas Association's Smart Style terrain park safety program that emphasizes the proper use of terrain parks.
The Smart Style video, along with TerrainParkSafety.org, work together to emphasize the importance of safety in terrain parks. Please visit TerrainParkSafety.org for a comprehensive look at the Smart Style program.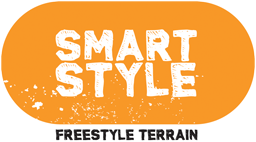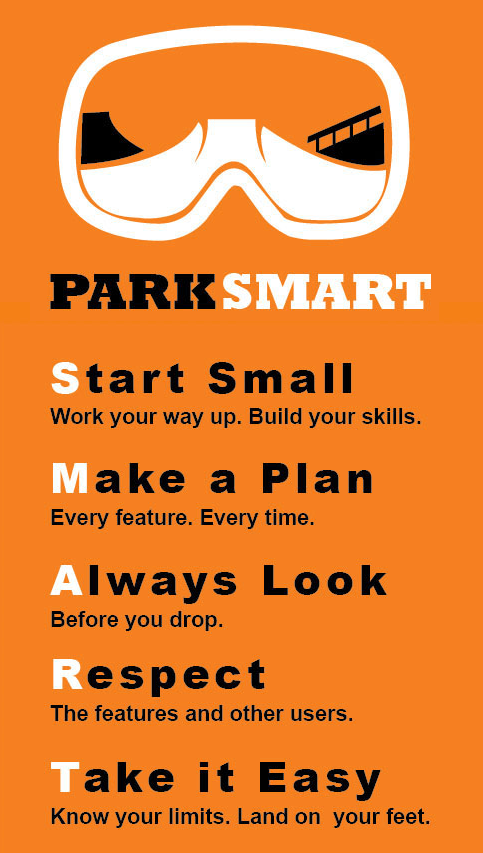 Know the Four Codes of SMART Style
Make a Plan
Every time you use Freestyle Terrain, make a plan for each feature you want to use. Your speed, approach and takeoff will directly affect your maneuver and landing.
Look Before You Leap
Before getting into freestyle terrain observe all signage and warnings. Scope around the jumps first not over them. Use your first run as a warm up run and to familiarize yourself with the terrain. Be aware that the features change constantly due to weather, usage, grooming and time of day. Do not jump blindly and use a spotter when necessary.
Easy Style It
Know your limits and ski/ride within your ability level. Look for small progression parks or features to begin with and work your way up. Freestyle skills require maintaining control on the ground and in the air. Do not attempt any features unless you have sufficient ability and experience to do so safely. Inverted aerials increase your risk of injury and are not recommended.
Respect Gets Respect
Respect the terrain and others. One person on a feature at a time. Wait your turn and call your start. Always clear the landing area quickly. Respect all signs and stay off closed terrain and features
Know your Limits and ability level and select the appropriate Freestyle Terrain for you.
Your condition, speed, balance, body movements, alignment, trajectory and maneuver difficulty will DIRECTLY AFFECT YOUR DESIRED OUTCOME. Know the intended use of the Freestyle Terrain you have chosen.
For example, some features are intended to be used in a series with no stopping and some individually with stopping areas; jump takeoffs are for jumping and rail takeoffs are for entering onto rails.
Your actions can take you out of balance and cause serious injury or death, no matter how the feature is designed or where you land. Land on your feet!
Transitions are changes in the shape and pitch of the snow or feature or changes from one type of sliding surface to another. Transitions can be gentle or abrupt, and demand that users be alert and respond to them with accurate movements.
Know where to land. The SWEET SPOT is between the "knuckle" and centre of the landing zone. Even if you land on or near the sweet spot, you can still be seriously injured or die if your landing posture is not correct.
INVERTED MANEUVERS ARE NOT RECOMMENDED AT CALABOGIE PEAKS.
BE AWARE that features change constantly due to snow conditions, weather, usage, grooming and time of day. Read and obey all posted signs, instructions, and warnings before using Freestyle Terrain.
Some resorts designate features as small, medium, and large. Be aware these ratings are determined by size, not degree of difficulty, and are relative only to that resort.
Each feature can be broken down into 4 zones. Identify these zones and have a plan before using any Freestyle Terrain:
Approach zones are the spaces for setting speed and stance to use the feature.
The Takeoff zone is for making moves that start your trick.
The Maneuver zone is for controlling your body in the air and setting up for landing.
Landing zones are the prepared slope between the knuckle and the runout beyond it.
Skiing and snowboarding
can be enjoyed in many ways.
At ski areas, you may see people using alpine, snowboard, telemark, cross-country, and other specialized ski equipment, such as that used by disabled or other skiers. Regardless of how you decide to enjoy the slopes, always show courtesy to others and be aware that there are elements of risk in skiing that common sense and personal awareness can help reduce. Observe the code listed below and share with other skiers the responsibility for a great skiing experience.
Always stay in control.
People ahead of you have the right of way.
Stop in a safe place for you and others.
Whenever starting downhill or merging, look uphill and yield.
Use devices to help prevent runaway equipment.
Observe signs and warnings and keep off closed trails.
Know how to use the lifts safely.
The Smart Style video is brought to you by the National Ski Areas Association (NSAA).

For more park safety tips, please visit www.terrainparksafety.org or www.nsaa.org.

*This is a partial list. Officially endorsed by: NATIONAL SKI AREAS ASSOCIATION.
CALABOGIE PEAKS FREESTYLE SKI CLUB
The Calabogie Freestyle Club offers an exciting winter program for young athletes to learn under the experience of seasoned and certified coaches. Learn more.
BE SAFETY CONSCIOUS AND KNOW THE CODE – IT'S YOUR RESPONSIBILITY!