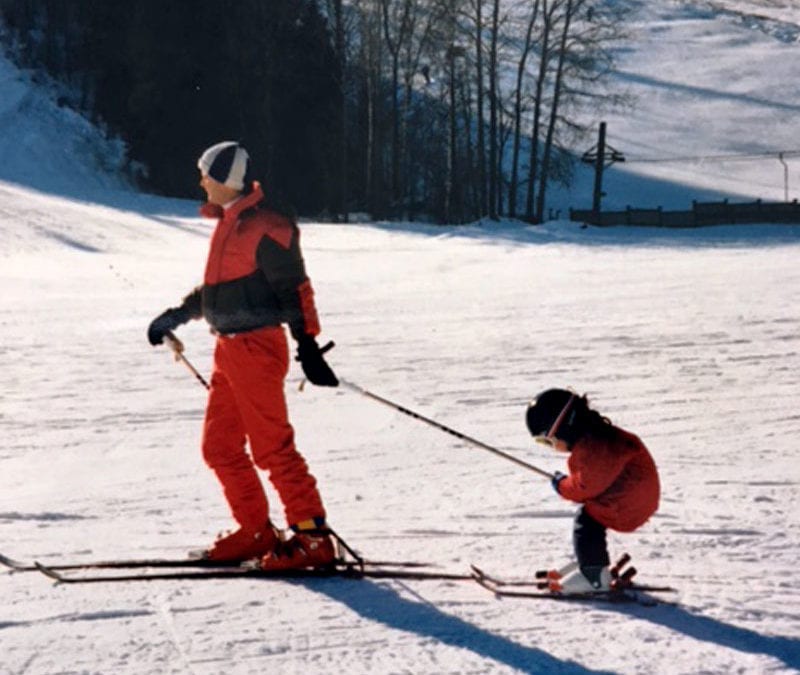 Paul and Mike Murphy 1987
A day skiing or riding on the mountain can be a multi-generational memory maker (family winter activities central)! Liz Murphy, the Marketing Director of Calabogie Peaks Resort, says it's hard to think of any other sport in the world that multiple generations can enjoy together for a full day of fun. "Our three kids began skiing with their grandparents, aunts, uncles, and mom and dad. The experience brought everyone closer and generated enthusiasm to keep going back. They learned very quickly, gained a lot of confidence and loved the fact that they could keep up. It didn't take long before we were trying to keep up with them."
Calabogie Peaks Resort is committed to making learning to ski fun, safe and result-driven encouraging a lifelong enjoyment of skiing and snowboarding. The whole family can enjoy family winter activities together. To keep up with the demand for beginner programs and terrain, The Peaks has almost doubled the Beginner Bowl, affording learners with progressive terrain for graduated learning.
In the Kids Snow School program, a child 2- to 4- years old can learn to ski with Mom and Dad by their side in a hands-on private lesson or a small group weekly program. The lessons reduce the anxiety for both the parent and child by teaching parents how to manage the newest little tike on the hill.
When your little skier is ready, the Ski Wee Program (4 – 6 yrs.) teaches in small groups and is nothing but FUN FUN FUN!  Our All Mountain Program (6-17 yrs.) is perfect for skiers and boarders looking to cruise the mountain with their instructors and friends. Choose from other programs that fit your style at www.calabogie.com.
No equipment – no problem. With an exceptional fleet of skis and boards, our rental technicians outfit customers with safe and size appropriate gear.
Stay up to date with everything that is happening at The Peaks by signing up for our newsletter.