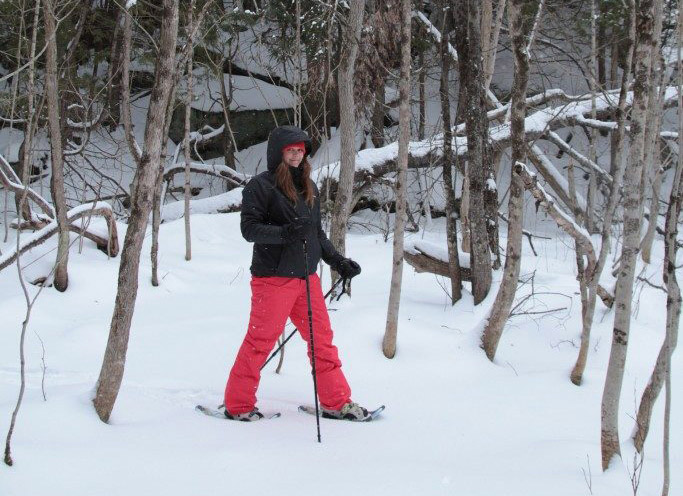 Calabogie Peaks is known for its ski hill, but there is a lot more to The Peaks than just downhill terrain. A favourite activity of mine aside from skiing and ice climbing is snowshoeing. Snowshoeing is a great way to go outside and get some exercise.
It's also something that you can learn how to do without having to take a lesson.
If you have ever hiked the area during the fall, then you know there are a variety of trails that go up, down and around Calabogie Peaks. If you haven't, well then, it's time to get out there and explore! Winter is a great time to check out these trails for many reasons like the views without leaves on the trees. You will get some breathtaking sights that you may not get in the fall and there are also a lot of frozen waterfalls just off some of the trails. These frozen waterfalls are really neat because ground water and cold temperatures form them. There is a section on the Manitou Trail that is quite popular for ice climbers and it is actually known as one of the best single pitch ice climbing areas in Eastern Ontario. With its easy access and multiple sections of ice, it gets busy fast. Before I began ice climbing, I used to enjoy snowshoeing into this area to watch the ice climbers in awe.
If you don't have your own snowshoes, don't worry! Calabogie Peaks offers snowshoe rentals. They also have easy to moderate trails for those who don't feel like trekking up the ski hill. What if you want to take the trails behind The Peaks but don't feel like snowshoeing up, that's what the chair lift is there for (it's not just for skiing). For a small fee of $5, you can hop on the chairlift and hop off at the top of Calabogie Peaks where you have your choice of many different trails. Before heading up make sure you are prepared. Snowshoeing is a high exertion activity and can cause you to sweat easily. Dress in layers, carry a pack with lots of food and water, take your phone and keep it close to your body (for heat so it doesn't die from the cold in case of an emergency). I recommend grabbing a map of the trails from The Peaks before heading out, but I must say that their trails are marked really well. Almost every junction you come to has a map that shows where you are and the different options of where you can go.
Don't want to snowshoe because you would rather ski? Well, why not head out for a snowshoe under the stars! The beauty of Calabogie is that with little light pollution you are able to see a sky full of stars on a clear night. Winter is one of the best times for stargazing and the feeling of being in the dark on a cold night with sparkling snow is an experience in itself. That being said, you still need to take a headlamp to see where you are going.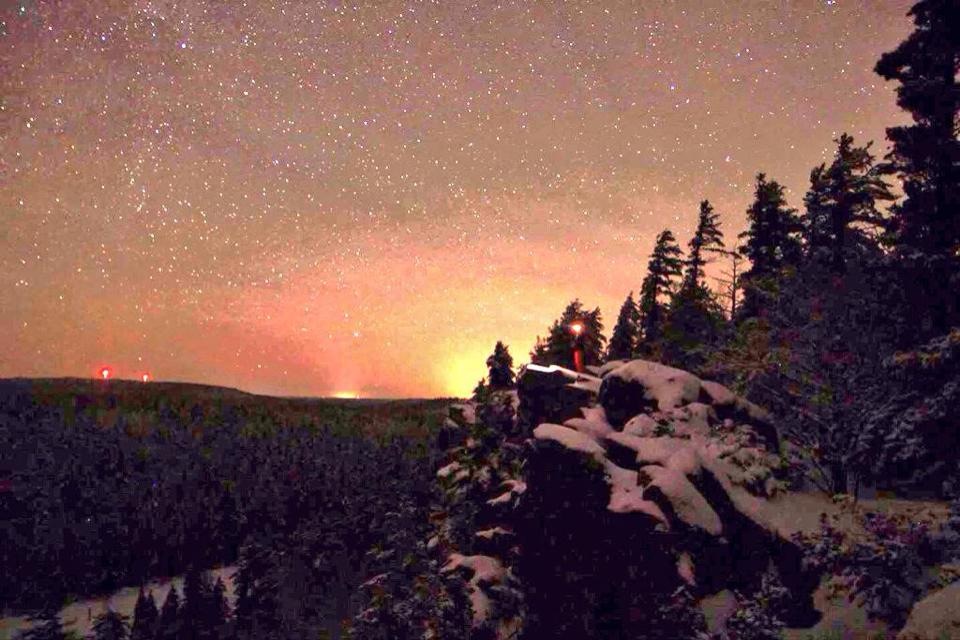 Calabogie Peaks has so many options for winter activities. Whether it's -20c or colder, get outside and enjoy winter!