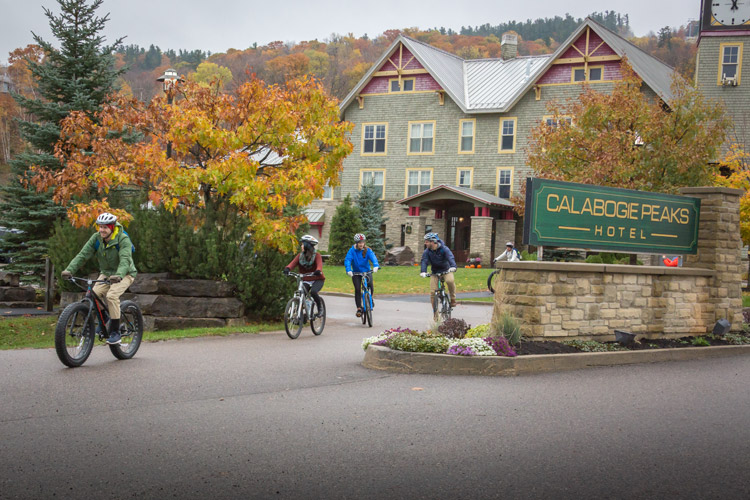 As a hiker, it's been a source of great pride to see so many of you taking an interest in coming out here to Calabogie and walking the trails these past couple of weeks. Combined with the impressive crowds during our Thanksgiving weekend Fall Colours Chairlift Rides and the number of hiking maps downloaded from our website, people have taken advantage of the weather to witness nature in perhaps its finest display.
When I tell people I'm a hiker, the first reaction is that I must be a hardcore, stocked-to-the-gills-with-official-Nike-gear kind of hiker. That couldn't be further from the truth. I hike in jeans, strap a water bottle to my hip, bring a few quick and easy items in a backpack (couple of granola bars, a change of shirt, a towel, and a cell phone in case of emergencies), grab my walking stick and I'm off. I like to clarify this because while you can be a dedicated, athletic hiker (or a cross country runner, as was the case in my youth), the beauty of this activity is that it's the definition of casual. Which is exactly what we saw from tweets shared with us over the past couple of weekends.
Now with my three-month old son to enrich my life, I secure him across my chest and bring him along to experience the trails with me in the hope it will become a tradition as he slowly develops the ability to walk with me. Years ago, it was the solitude and time away from crowds, deadlines, even responsibilities. A hike was my time to myself with nothing but my thoughts and some squirrels to keep me company. Times have changed and as a dad I know understand it's also about getting away from the distractions we take for granted: pulling the kids away from the TV and spending some quality time outside, sharing an hour with someone special for a little hand holding under the canopy, snapping some amazing panoramas with your grandparents… the possibilities are endless.
It's also about the accomplishment when you reach the trail's destination, be it the top of the mountain or the gorgeous vista of Eagle's Nest. It's quality time in a place no video game, painting, or poem can reproduce and it's why you have to see it to believe it.

Thanks for stopping by this weekend and I look forward to see everyone back on the trails next Autumn… and on the slopes this Winter. Amazing Fall Colours.