Adaptive Ski Programs
Downhill Skiing Opportunities for Every Individual
The Calabogie Adaptive Ski Program was established in 2003. As a member of the Canadian Adaptive Snowsports, (CADS) National Capital Division, they take pride in providing people with disabilities the opportunity to learn the basics of downhill skiing.
In addition to supporting Calabogie's "Weekday School Program," approximately 20 CADS-certified volunteer instructors assisted by 40 to 50 trained volunteers offer a Sunday morning and afternoon skiing programs to children and adults with disabilities.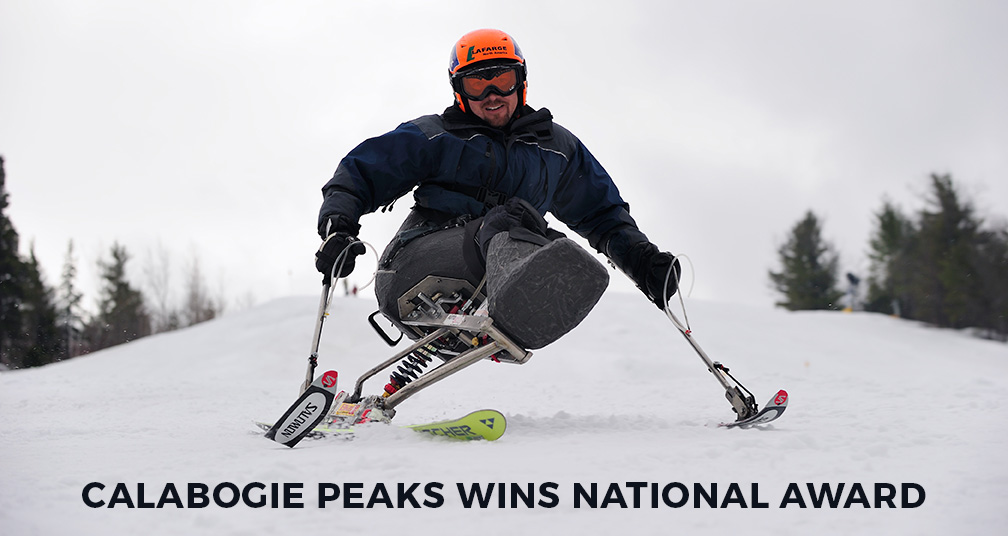 Calabogie Peaks Wins National Award
Calabogie Peaks Resort is pleased to announce that it has received the national award for "Ski Resort of the Year" at the 2019 Canadian Adaptive Snowsports (CADS) National Awards in Kimberly, BC. last week for an outstanding contribution to adaptive Snowsports.
The Canadian Association for Disabled Skiing (CADS) is a national not-for-profit charitable organization that has the mandate of enriching the lives of people with disabilities through skiing and snowboarding. The organization has approximately 3000 members (including disabled skiers and volunteers) across Canada. The National Capital Division operates programs at 5 ski hills with a total of more than 500 members in the region including its Calabogie Adaptive Snowsports program.
Deb Blimkie, Director of the Calabogie Adaptive Snowsports program, said "Calabogie Peaks continues to be at the forefront promoting recreational and social services to the disabled community". Deb was recognized at the National level for her outstanding dedication to enriching the lives of those with disabilities by winning the "Bob Gilmour Inspirational Leadership Award".
Calabogie Peaks has become almost entirely accessible across its campus aided in part by funding for infrastructure improvements through the Federal Government "Enabling Accessibility Fund" grant process.
Jim Hemlin, COO of The Peaks, said that "Calabogie Peaks is very proud of the tremendous work that CADS does and that The Peaks is a better place because of their work and mission to enrich the lives of those with disabilities".
Our Focus is on Ability, Not Disability
In addition to learning how to ski, the program's goals are to increase self-awareness and confidence for those individuals who normally might be shut-ins during the winter months. As a charitable organization, this program requires a good number of volunteers; your support is greatly appreciated.
For Registration or Volunteer information, please contact the Calabogie Adaptive Program by clicking here.
Encouraging people with disabilities to embrace what they're capable of
is at the heart of this program, no matter what walk of life they may come from
Thank You, Volunteers
More than 20 CADS-certified volunteer instructors and over 50 trained volunteers work together to ensure children and adults with disabilities get to enjoy a day of fun on the slopes. As a charitable initiative, this program depends on dedicated volunteers, and we're incredibly thankful for their continued hard work, welcoming attitude, and passion for the program.