Calabogie Peaks Resort, A magical Ontario wedding venue
Express your love for that special person in your life and surround yourself with the best the world has to offer: family, friends, and beauty. Nature provides a glorious backdrop for unforgettable lifetime memories at Calabogie Peaks Resort, one of the leading wedding venues in Ontario. Host your wedding celebration where country warmth and luxury are combined with culinary perfection and limitless seasonal activities.
Tie the Knot at Calabogie Peaks Resort
Getting engaged, planning a wedding and a life together is a time to celebrate. Leave the stress of your wedding behind by letting our experienced event staff navigate you through the booking process, venue selections, menu choices and more. Come and visit and start making memories at the mountain.
Your Wedding Celebration
A Calabogie Peaks wedding is unlike any other wedding venue in Ontario. Surrounded by lush vegetation, blue waters of the lake and the majestic hills of Ontario's Highlands your wedding event is sure to be extraordinary in every way. With over 30 years of experience planning and providing exceptional service, we will help you plan every detail to assure the most memorable experience.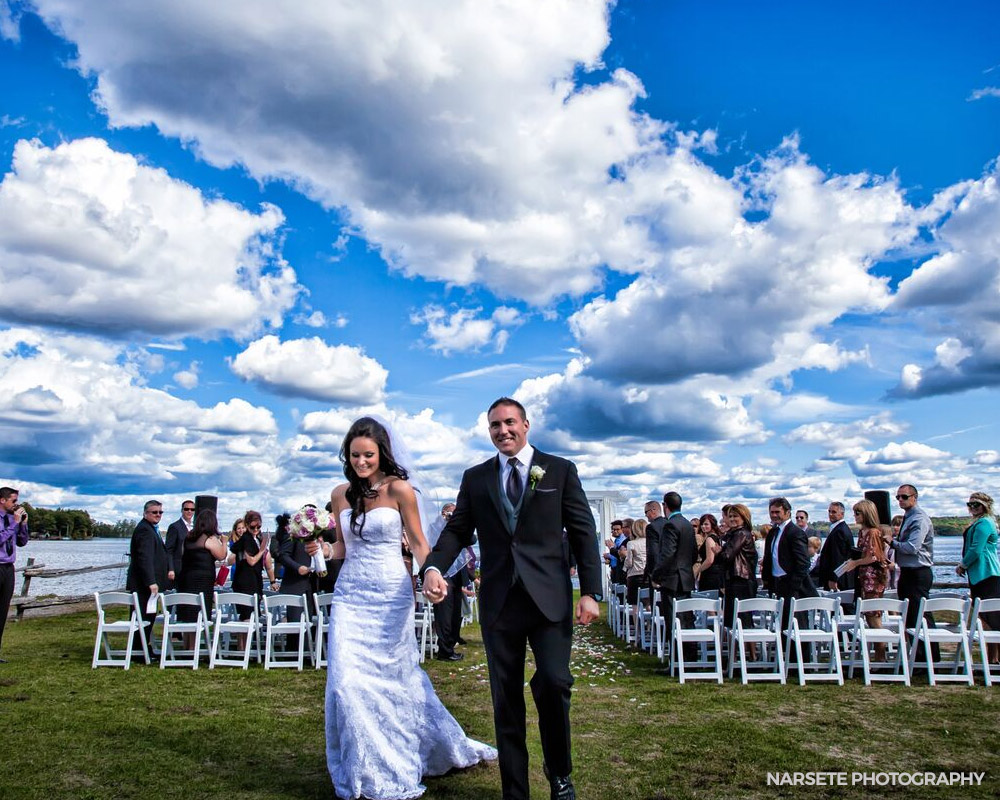 THE BEACHFRONT
The beachfront on the shore of Calabogie Lake is the perfect outdoor wedding venue in Ontario for a beautiful summer wedding. Sparkling blue water, vibrant green lawns and a classic white arbor provide the perfect backdrop for your wedding vows.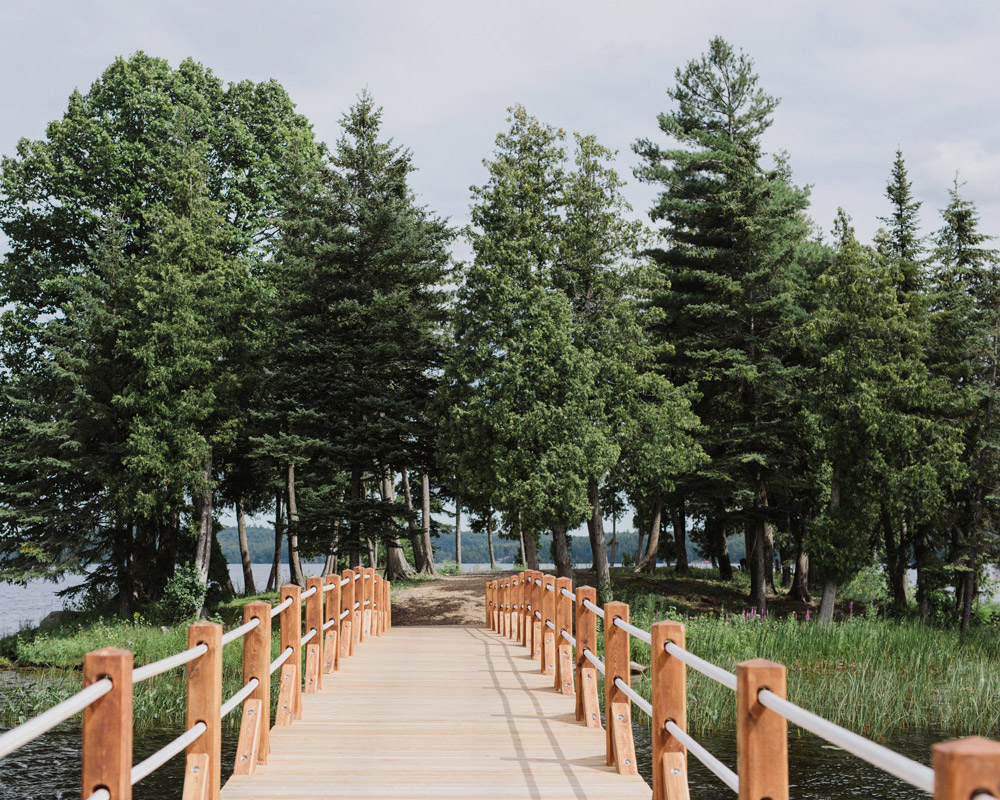 THE ISLAND
Over the bridge and into a secluded forest wonderland is where you'll find our newest wedding ceremony venue. This private location on the shores of Calabogie Lake is ideal for intimate ceremonies where your close friends and family will bear witness to your momentous occasion.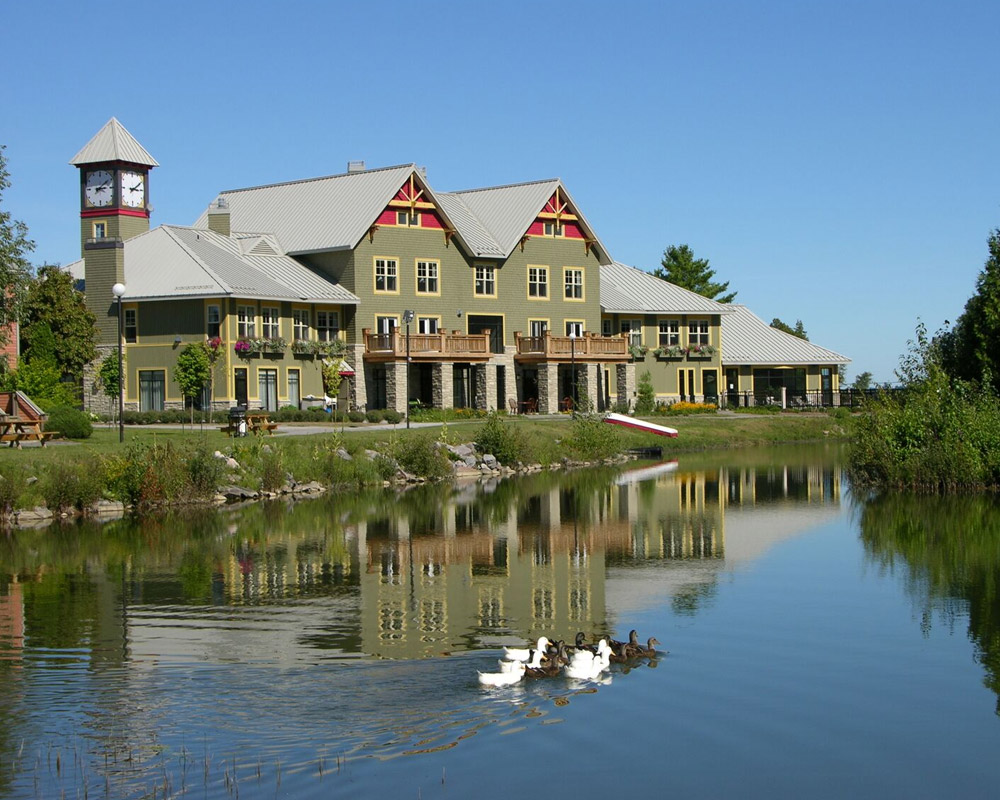 THE POND
The Pond is a location harmonious with nature and the forest. Situated behind the Calabogie Peaks Hotel at the woodland's edge, this outdoor wedding venue is a brief stroll to your reception.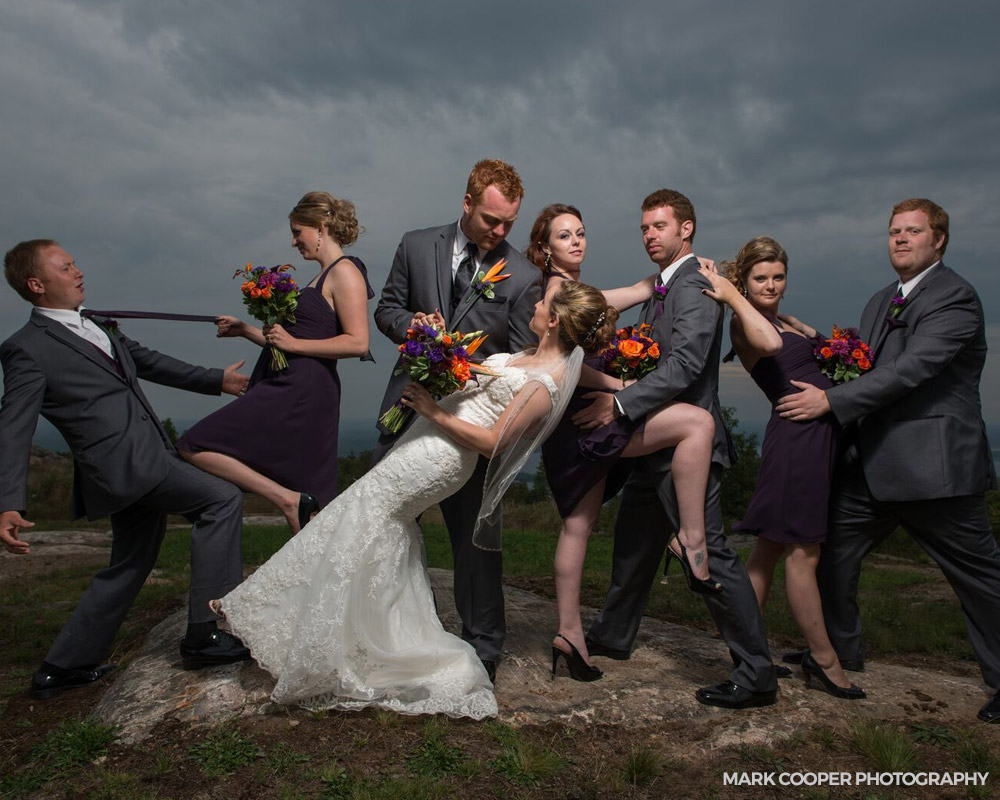 THE MOUNTAINTOP
Experience your wedding like you've always imagined. Take a scenic chairlift ride up the mountain with your wedding party and guests to our unique mountain-top where wedding ceremonies are full of whimsical romance and breathtaking views. This forest wedding venue creates a special and memorable experience!
Frequently Asked Questions
Who will be managing my wedding?
Once your wedding is booked and confirmed with our Sales Manager, an Event Coordinator will work with you on planning all of the details. On the day of your wedding a Food and Beverage Supervisor will manage your entire celebration day.
How do we get an estimate of the cost of our wedding?
Our Sales Manager will review the options and estimated prices with you prior to booking. An estimate will assume the number of guests you expect at your wedding. Your Event Coordinator will continue to update your costs based on your choices and numbers.
What is included in the Facility Fee?
A choice of location for your ceremony (additional charge for "Top of the Mountain" and "Island" locations)
In the case of inclement weather, an optional ceremony rain venue will be determined by 10 AM the day of the wedding
The rental of the room for your reception
All set up and take down costs
Full length white table linens including napkins
Cake and gift tables
Standard table settings with china
Flatware and glassware
An experienced wedding team to coordinate your wedding from start to finish
How do I secure my wedding date?
You secure your wedding date by signing our wedding contract and providing a 25% of estimated cost down payment.
When can our guests start to book rooms for our wedding?
Your guests are welcome to book their rooms once your wedding contract is signed. As we have a limited number of hotel and condos available we encourage early bookings.
What is the best room for my wedding reception based on the number of guests we are inviting?
Your banquet hall is booked until 1:00 AM which means that last call from the bar is at 12:30 AM. Should you wish to have last call at 1:30 AM and the hall opened until 2:00 AM, you must pre-arrange with your wedding representative one week before your wedding day.
Room
Seating Capacity
(people)
Reception
(people)
Madawaska Room
80
100
Black Donald's
140
180
Algonquin Hall
150
160
The Annex
80
128
Algonquin Hall & The Annex combined
270
288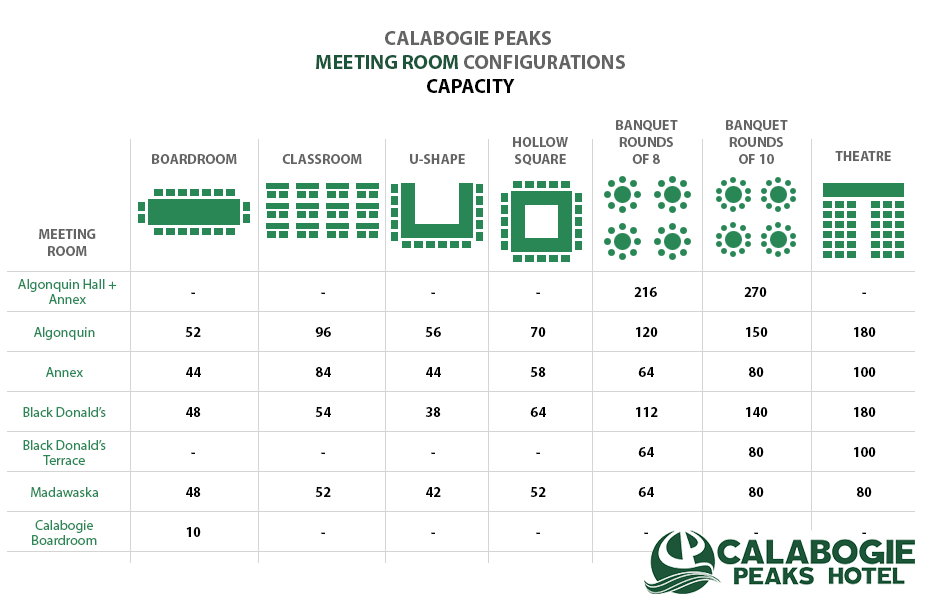 *The capacity chart reflects the maximum in any given room and does not reflect set up of additional items such as bars, dancefloors, staging or AV that may impact set up options. Please consult with a member of the sales team to discuss your requirements for the venue.
When should I confirm the final numbers of people and menu and wine selections?
All event menus and wine selections should be confirmed one month prior to your wedding. Final guarantee numbers of guests is due two weeks prior to your wedding.  
Are there restrictions on decorations?
We recommend real rose petals or bubbles be used in outdoor locations. The use of confetti, rice and fog machines is not permitted. We do not allow anything to be attached to any surface that can be damaged. Additional cleaning charges will apply if needed.
Is your event team able to help us set up our decorations?
We would be pleased to place menus and favours on your tables. Additional charges will apply for a more detailed setup request.
Are we able to bring in our own food?
Calabogie Peaks is a full catering facility and as such we do not permit anyone to bring in their own food. The exception is your wedding cake from a licensed vendor.
How do you accommodate guests that are vegetarian or have food allergies?
We will do our upmost to accommodate all allergies and dietary restrictions provided we are notified in advance with your final numbers. Please note that Calabogie Peaks is not a nut free facility.
What are the SOCAN and Re:Sound Fees?
SOCAN Tariffs
SOCAN (Society of Composers, Authors and Music Publishers of Canada) collects a government approved royalty on behalf of composers, authors and music publishers for music played at your event. The royalty is based on the room capacity and whether your event involves dancing. 
Re:Sound (Re:Sound Music Licensing Company) also collects a government approved royalty for music played at your event. Re:Sound collects on behalf of the owners of the sound recordings. Like Socan, Re:Sound's royalty is based on the room capacity and whether your event involves dancing. The Resort collects both royalties from you and remits them on to SOCAN and Re:Sound.
Are the banquet rooms handicap accessible?
All of our banquet rooms are handicap accessible.
What happens if we need to cancel?
All deposits are non-refundable. If unfortunate circumstances arise and you do need to cancel, cancellation fees apply. For more information please speak with our Sales Manager or Event Coordinator.
Who should I contact if I have any questions or concerns about an event?
Calabogie Peaks Wedding Themes

Get inspired by our Wedding Themes on Pinterest!
[fts_pinterest type=single_board_pins pinterest_name=calabogiepeaks board_id=beautiful-country-weddings-at-calabogie-peaks pins_count=12 repin_count=0 pin_likes=0]
ONTARIO WEDDING VENUE TESTIMONIALS
WE ARE SO HAPPY THAT YOU ARE HAPPY!
There are very few wedding venues in Ontario that offer a variety of choices for both outdoor and indoor wedding venues like Calabogie Peaks. We are unique, affordable, and offer something for everyone. Read our testimonials and see why so many happy couples choose The Peaks as their wedding venue.
"Kathleen and Ryan's Calabogie Peaks Resort wedding was nothing short of amazing with a woodsy feel and mountain vibe, just like their new home in the Okanagan. With a touch of gold, white and greenery, the colours weren't only the perfect fit to Kathleen's personality – elegant yet simple, but they complimented their venue to a tee."
Tracey Jazmin, Wedding Photographer