Join our hospitality team!
$600 signing bonus program
($300 after 3 months and $300 after 6 months).
The Calabogie Peaks Hotel will welcome you in a family-like environment. Being a small team, there are many opportunities to practise different responsibilities in the realm of hospitality. If you have previous experience in the hospitality industry or if you're passionate about creating experiences and solving challenges on your feet, we'd like to meet you.
WE ARE CURRENTLY RECRUITING
---
Full-time housekeeper
The Calabogie Peaks Hotel includes 25 rooms and common areas.
As a full-time housekeeper, you will:
Follow the regular cleaning schedule
Clean rooms
Remove all bed linens and replace them with a fresh set of linens
Wipe walls, windows, doors and fixtures
Sanitize showers, sinks, toilets and mirrors
Vacuum carpets and clean hard floors
Stock cleaning closets
You are a great candidate if you:
are able to speak English
are comfortable following directions
are able to work in a team
have a keen eye for detail
Customer relations experience is an asset.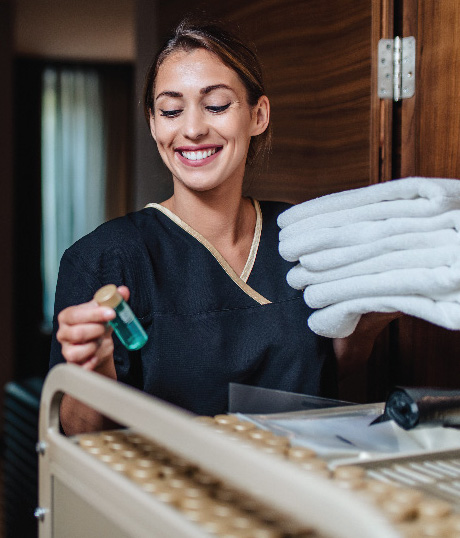 Full-time and part-time positions on the Guest Services team
Members of the Guest Services team are responsible for welcoming guests, taking reservations and delivering excellent customer service.
As a member of the Guest Services team, you will:
Take guest reservations by phone, email, or in-person at the Guest Services desk.
Be responsible for guest check-in and check-out.
Ensure that guest information is correct and recorded for our internal system.
Verify daily room availability and participate in maximizing hotel revenues.
Apply payment policies in effect.
Be knowledgeable of local attractions and services to be able to inform guests
Interact with other teams in order to assist guests in their requests.
Be called upon to assist other teams with a variety of tasks.
You are a great candidate if you:
Are experienced in delivering customer service.
Are able to think on your feet and manage a variety of situations.
Enjoy working with a team and interacting with people.
Have a flexible schedule.