Executive Chef Mark Jones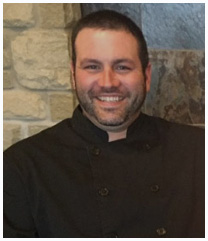 Meet Our Passionate Chef
Chef Mark Jones, formally of the Fairmont Jasper Park Lodge, the Delta and Marriot Hotels, rises to Executive Chef at Calabogie Peaks Resort. Chef Jones has worked for the past two years at The Peaks under former Executive Chef, Tristan Herzog. He said, "I have had the great privilege of working on a very successful team and I strive to maintain and grow the momentum within the kitchens".
Chef Jones is known as a "deconstructer" of food. He takes traditional recipes, pulls them apart and rebuilds altering the composition and flavors while keeping the integrity of the food. He also has a passion for the grill and the different smoky flavours that rise up from charcoal or different types of slow smoldering woods.
Mark is committed to maintaining a food program that is authentic to the area by sourcing products from local producers and purveyors. Expanding the Calabogie Peaks Bee Hives, maintaining the "Feast On" authentication and welcoming new local products are part of Marks' design. "So much is available in the Ottawa Valley, a rich and fertile place to grow great produce and graze good livestock. These assets combined with our country hospitality provide a healthy and enjoyable food experience for our guests".
RESERVE A TABLE AT CANTHOOKS RESTAURANT